| | |
| --- | --- |
| | Guido's personal home page |
Sub-pages:
Sections on this page:
Not only software, tips, ideas, cool things
Linux friendly use of the middle mouse button in firefox
Do you hate it that firefox simply opens a URL when you copy/paste data into a form and you hit accidently the body of the page rather the input field? Here is the solution:
Navigate to about:config
search for middlemouse.contentLoadURL
set it to false


---
Anti-itch recipes for insect bites
Click here for a collection of anti-itch recipes
---
Old historical map of the Montreal Isles, Montreal, Canada
I have this old map of Montreal (around 1800). It might be of scientific and historical interest to other people. Click on the map to get a more detailed view.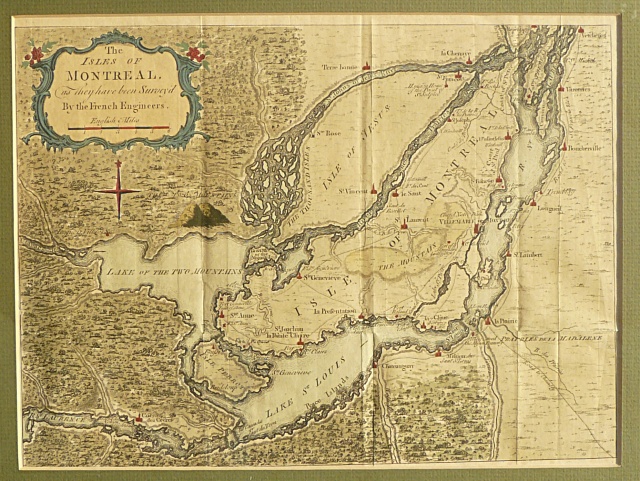 ftff, ftwhich and whichman: fault tolerant search utilities
ftff, ftwhich and whichman are fault tolerant search utilities. whichman allows to search for man pages that match approximately the specified search key. ftff is a fault tolerant file find utility and ftwhich is a fault tolerant version for the 'which' command. The error tolerant approximate string match is based on the Levenshtein Distance between two strings. This is a measure for the number of replacements, insertions and deletions that are necessary to transform string A into string B.
Download:
whichman-2.4.tar.gz
Previous stable versions:
whichman-2.3.tar.gz
whichman-2.2.tar.gz
whichman-2.1.tar.gz
whichman-2.0.tar.gz
whichman-1.9.tar.gz
whichman-1.8.tar.gz

ethwireck -- check if the wire in the Ethernet port is live

ethwireck can detect if the physical layer of the Ethernet is up. This can then be used in the init script for your network card to determine whether or not an interface should be brought up. You can branch then and bring e.g the cooper ethernet interface up if a wire is plugged in otherwise use wlan.

ethwireck implements basically the link state of ethtool and mii-tool in one program.


    # this is how you can use ethwireck:
    if ethwireck eth0; then
        echo "eth0: physical layer up ..."
    else
        echo "eth0: no wire plugged"
        return 1
    fi

ethwireck may not work with all network cards. It depends on the driver. You have to try if it works on your PC
Download:
ethwireck-1.3.tar.gz
ethwireck-1.2.tar.gz
ethwireck-1.1.tar.gz
ethwireck-1.0.tar.gz

gpppwrap: a graphical user interface wrapper around the ppp-on/off scripts
gpppwrap is a graphical user interface to conveniently select a phone number and dial into your ISP. It's very convenient if you use different ISPs.
gpppwrap is only a wrapper around the ppp-on/ppp-off scripts and gives you therefore still the power and flexibility of these scripts. gpppwrap uses ppp-on/ppp-off perl scripts which are Set-UID root to give ordinary users the possibility to setup a ppp connection to the selected phone number. gpppwrap is based on the gtk GUI libraries.

gpppwrap is written for people who like the power and flexibility of shell and perl scripts and want at the same time an idiot proof way to connet to the internet when grandmother is using the computer.

From version 0.6 on a cgi-script called pppcontrol is included in the package. It provides the functionallity as gpppwrap and can run on a local webserver.

This package contains ready configured real "internet by call" ISPs for Germany. You can use them if you are in Germany. You just pay via your normal phone bill. No prior registration needed.
Please let me know if you have such "internet by call" ISPs also in other countries. I would like to add them.
Download:
gpppwrap-1.1.tar.gz (sources)
gpppwrap-1.0.tar.gz (sources)
Look at a screen shot of the gtk gui, gpppwrap:
gpppwrap1.gif
Look at a screen shot of the cgi-bin, pppcontrol:
pppcontrol.gif

Unicode::UTF8simple - Conversions to/from UTF8 from/to charactersets
Unicode::UTF8simple provides UTF-8 conversion for perl versions from 5.00 and up. It was mainly written for use with perl 5.00 to 5.6.0 because those perl versions do not support Unicode::MapUTF8 or Encode.

Unicode::UTF8simple is written in plain perl (no C code) and will work with any Perl 5 version. It is just slightly slower than Encode.
In the CPAN perl archive UTF8simple is available at: http://cpan.org/authors/id/G/GU/GUS/

Download:
Unicode-UTF8simple-1.06.tar.gz

Previous versions:
Unicode-UTF8simple-1.05.tar.gz

Perl 5 Quick Reference Guide
The cpan.org documentation tree used to contain a very good Perl Quick Reference Guide written by Johan Vromans. This this small booklet is now also available as a Pocket Reference from O'Reilly ("http://www.ora.com). Since the move of documentation out of the cpan.org directory tree this Quick Reference Guide is no longer part of the perl documentation.

I provide it therefore here for download. In addition you find also links to a HTML version made by Rex Swain (originally from http://www.rexswain.com/perl5.html) and a pdf version.
Download:
perlref-5.004.1.tar.gz(complete booklet)
Instructions on how to print this as booklet are included in the tar file

perlref-5.004.1.pdf (pdf version)

perlref-5.004.html (HTML version)
This HTML version identical to the HTML version by Rex Swain but I corrected a number of HTML syntax faults.

webgrep, web-page search and check utilities
Note:webgrep will not be developed further. It is now replaced by Tagreader (see above).

webgrep is a set of small programs for the web-master. blnkcheck is a utility to check for broken links in web-pages. blnkcheck is very fast and checks only relative links but together with httpcheck it can also check for dead absolute links of protocol type http. httpcheck is a perl script that checks for the existence of a web-page by issuing a HEAD request to the web-server. httpcheck can also do requests via a proxy server. srcgrep is quite useful to quickly check which images are included in a web-page and to see where they come from. It searches for the <... src="..." or < ... background="..." in a web page. hrefgrep works basically like srcgrep except that it searches for < ... href=...>. taggrep is a generic grep utility to search for a given html tag. E.g to list the document title of a number of web-pages. webfgrep is a poor man's web search engine. lshtmlref is a utility to build tar archives from a number of html pages. It helps you to include all images, textfiles etc.. into the tar archive.
Download:
webgrep-2.12.tar.gz
Previous stable versions:
webgrep-2.11.tar.gz
webgrep-2.10.tar.gz
webgrep-2.9b.tar.gz
webgrep-2.9.tar.gz
webgrep-2.8.tar.gz
webgrep-2.7.tar.gz
webgrep-2.6.tar.gz
webgrep-2.5.tar.gz
webgrep-2.4.tar.gz
webgrep-2.3.tar.gz

ftdibb, a BitBang mode library for the ft232 and ft245 chips from ftdichip.com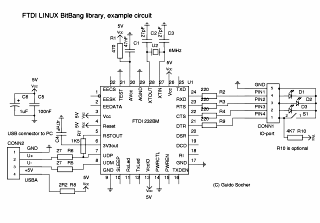 Bitbang mode is a special mode of the ftdi serial IO chips which allows you to use all 8 IO-pins either as input or output. You can query the state of each pin at any time (function ftdibb_getBitMode) An output pin can be set to 1 (=+5V) or 0 (=0V). It will stay in this state until you change it again.

This is a simple and easy to use library for linux. Examples are included.
Download:
ftdibb-0.5.tar.gz
ftdibb-0.4.tar.gz


sled, a shutdown button for your server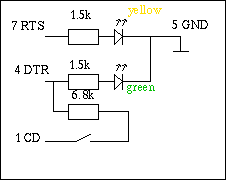 A real server machine does normally not need any keyboard, monitor or mouse. It needs a good operating system, like Linux, and a network card. External devices like mouse and keyboard disturb only. With Linux running on the machine, remote administration is the best and most convenient solution. However sometimes you would like to have a little button to properly shutdown the server: sled is the solution.

sled is the driver software for a little push button to connect to your server on the serial line. You can use it to shut the machine down when needed. It has as well 2 LEDs to monitor the state of the server.
Download:
sled-0.1.tar.gz
sled-0.3.tar.gz

I have written an article in LinuxFocus about sled. The article describes the circuit and its functionality in detail:
http://linuxfocus.org/English/January2001/article186.shtml

plhtml -- server side scripting in perl
plhtml is a preprocessor for html documents. Its purpose is to simplify the work of writing large numbers of HTML documents. It acts like a compiler, i.e. you provide an input source text and plhtml produces the HTML documents. Unlike many other programs of this type plhtml does actually report the line number in the html input file if it comes across a syntax error. This makes it very easy to find faults.
Download:
plhtml-0.2.tar.gz


cdspeed -- decrease the speed of your cdrom
Modern cdrom drives are too fast. It can take several seconds on a 60x speed cdrom drive to spin it up and read data from the drive. The result is that these drives are just a lot slower than a 8x or 24x drive. This is especially true if you are only occasionally (e.g every 5 seconds) reading a small file. This utility limits the speed, makes the drive less noisy and the access time faster. cdspeed is also very good if you prefer to listen to the musik on your mp3 CDs rather then the noise of your CD drive.

Note: recent versions of the eject command include the functionallity of cdspeed (via the -x option).
Download:
cdspeed-0.4.tar.gz
cdspeed-0.3.tar.gz
cdspeed-0.2.tar.gz
cdspeed-0.1.tar.gz

blkcrypt, three block encryption algorithms
The link below goes to a page from which you can download three programs that implement the block encryption algorithms des, blowfish and idea.
Please note that there are different legal regulations in different counties. Check first if you are allowed to download cryptographic software from that page and use it in your country.
Idea is patented in the US and can be used freely only for non-commercial purposes. THEREFORE DO NOT USE THIS SOFTWARE FOR COMMERCIAL PURPOSES.
Go to the download page:
blkcrypt.html

amr2wav -- A linux shell script to convert amr files from Ericsson or Nokia phones to wav
This is a simple script based on http://xa.bi/mms/. To use it do the following:

Download the amr coded C-code from http://www.3gpp.org/ftp/Specs/2003-09/Rel-5/26_series/26104-520.zip. Note that this is a double zip-ed file and unpacks into the current directory. Make a sub-directory before you unzip it.
cp makefile.gcc Makefile
Edit Makefile and remove "-DETSI"
Edit decoder.c and add at the beginning: #include "sp_dec.h"
Type make to compile (this will generate the executable called decoder)
cp decoder /usr/local/bin/amr_decoder
Download the amr2wav shell script
Save amr2wav in /usr/local/bin and make it executable (chmod 755 amr2wav)
You can use the program lame to convert the .wav file then to .mp3 if you want
LinuxFocus.org , an international Linux Magazine
Linux Focus is the multi lingual magazine about the Linux operating system. Linux Focus is managed and produced by Linux volunteers, fans and developers. There is no subscription necessary to read LF, it is freely available on the web all over the world.

Linuxfocus is no longer updated but it is an archive with a lot of information.


http://www.linuxfocus.org


==>Click here to download GDM and Grub background screens with a linuxfocus.org logo


Wedding of Katja and Guido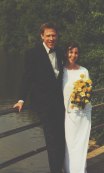 Here is a picture of our wedding (16 July 1999). More information about my wife can be found on her homepage.
A collection of useful Shell and Perl scripts
This is a collection of some Shell and Perl scripts that are convenient utilities for the daily work with Unix/Linux. The scripts are most of the time plain text files. Therefore DO NOT try to download them under Windows. Windows will change the character set and some scripts will not work any longer:

© Guido Socher, email: The page is available at: http://tuxgraphics.org/~guido/ | http://linuxfocus.org/~guido/